By Dr. Bob McCauley
Below are remedies for tinnitus.  Each one of these remedies works for some people and not for others depending on your problem.
Benfotiamine is a synthetic, fat-soluble, S-acyl derivative of thiamine that is a dietary supplement to treat diabetic sensorimotor polyneuropathy. Benfotiamine was developed in the late 1950s in Japan.
Massage the earlobes.
Grab your ear lobes and pull it away from your head with vigor five or six times.
Open your mouth wide, place your thumbs in your ears and then pull them out quickly as you close your mouth. Repeat that 10 times.
Place your thumbs on the top of your ears and rub them vigorously against the skull for 20 seconds.
Open your mouth wide and close it five times. You will find your eustachian tubes opening in your nose. Take your thumbs and place them in your ears and then suddenly pull them out. This helps release any pressure that has built up in the inner ear. This is the same as popping your ears when a plane is landing. You are decompressing are we leaving the ear of any air pockets.
Pinch your nose closed then push then puff your cheeks to help open the Eustachian tubes. Do this 10 times.
Tapping behind the ears with your index fingers 20 times. Do it each day for 8 days in a row.  8 * 20. See if there's any improvement. Usually, you'll see it in this first finger-tapping exercise. If you don't see any success with this it probably will not work with you. This does not work for everyone.
The third thing is the massage the neck in and around the ears and everything in that entire area of the head so that all the muscles are totally relaxed. Many years ago I had dizzy spells and tremendous nausea. Some of them were more serious than others and they lasted for almost a year. One day I noticed that my muscles were very tight under my left ear so I started massaging it. This hurt tremendously and I realized there was a knotted muscle there. I began to massage it, and the dizziness I was experiencing and it stopped it almost immediately. I realized that my muscles were pulling down on my inner ear and causing equilibrium disorientation. My inner ear was being pulled by neck muscles in a way that was throwing it off. I put a magnet and the place where it hurt most for about 3 days and I've never had a problem since. The same neck muscles can become knotted and be pulling down on the inner ear, causing you to hear some sort of high pitch noise because of its orientation.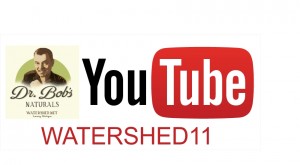 Dr. Bob's Blog is not intended as medical advice. The writings and statements on this website have not reviewed and/or approved by the FDA. Our products are not meant to diagnose, treat, cure, or prevent any disease. Rather they are meant to demonstrate that aging can be slowed and even reversed and that Great Health achieved when the most fundamental nutritional needs of the human body are met. Always consult a medical doctor or other medical professionals when you consider it necessary.
Dr. Bob's BLOG is covered under the Communications Decency Act (47 U.S.C. §230),: "No provider or user of an interactive computer service shall be treated as the publisher or speaker of any information provided by another information content provider".  This BLOG contains Copyrighted and Trademarked materials owned by The Watershed Wellness Center.  Regarding