By Bob McCauley, ND
Water cures, but purified water destroys anyone who consumes it.  Purified water is
produced by  distillation or reverse osmosis and should not be consumed for three reasons.  I wrote the The Miraculous Properties Of Ionized Water.  Purified water acidifies the body, leaches alkaline material from the body, including minerals, and because of the large size and shape of its water molecule clusters it does not hydrate the body well.  In fact, long-term use can leave us dehydrated.
Purified water has had all the minerals removed from it, which is a substance that cannot
be found in nature.  Because of its extreme purity, purified water absorbs carbon dioxide from the air, which makes it acidic and even more aggressive at dissolving the alkaline substances it comes in contact with.
It usually contains little or no dissolved oxygen and therefore is considered dead water.  Purified water enters the body pure, but does not come out pure.  It leaches vital minerals from the body, turning it more acidic.  Even purified water that has been ionized should be avoided.  Even though ionization does increase purified water's hydration properties, the trade off is not worth it because it will steal minerals from the body.
Ionized Water and purified water are exactly the opposite from each other in every way.  Purified water is acid; Ionized Water is alkaline.  Purified water leaves the body dehydrated; Ionized Water is extremely hydrating.  Purified water leaches minerals from the body; Ionized Water provides minerals to the body.[9] Purified water does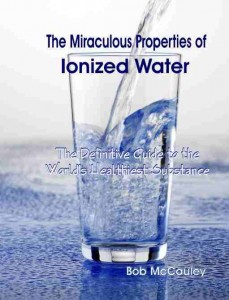 not provide the body with oxygen; Ionized Water does.  Purified water does not scavenge for free radicals; Ionized Water does.  Purified water encourages oxidation of the body; Ionized Water reduces oxidation.

Dr. Bob's Blog is not intended as medical advice. The writings and statements on this website have not reviewed and/or approved by the FDA. Our products are not meant to diagnose, treat, cure or prevent any disease. Rather they are meant to demonstrate that aging can be slowed and even reversed and that Great Health achieved when the most fundamental nutritional needs of the human body are met. Always consult a medical doctor or other medical professional when you consider it necessary.
Dr. Bob's BLOG is covered under Communications Decency Act (47 U.S.C. §230),: "No provider or user of an interactive computer service shall be treated as the publisher or speaker of any information provided by another information content provider".  This BLOG contains Copyrighted and Trademarked materials owned by The Watershed Wellness Center.  Regarding the templates, pics, video clips, music or other media used in this BLOG. All material is copyrighted to their rightful owners.