By Dr. Bob McCauley
All disease comes from our diet and all disease starts in the digestive tract. This is why it is
imperative that we keep it free of parasites and unhealthy bacteria which colonize in our digestive tract and lead to a host of disease. To reclaim our health, the first order of business should be to rid our digestive tract of anything that does not belong in it, including parasites, bacteria, yeast, mold, fungus and viruses.
Dr. Bob's Parasite killer is formulated with parasiticidal, anti-fungal, anti-viral and anti-bacterial ingredients with the intention of killing everything in the digestive tract. Once that is accomplished then next step is to reintroduce probiotics, the friendly bacteria that the body requires to break down food, absorb nutrients, and keep our digestive tract free of parasites and unhealthy bacteria.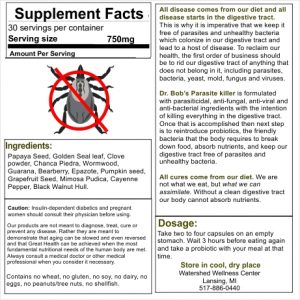 All cures come from our diet. We are not what we eat, but what we can assimilate. Without a clean digestive tract our body cannot absorb nutrients.
Parasite Killer Ingredients
* Papya Seed
* Golden Seal
* Clove
* Chanca piedra
* Wormwood
* Guarana
* Bearberry
* Epazote
* Pumpkin seed
* Grapefruit seed
* Mimosa pudica
* Cayenne pepper
* Black walnut hull
Known Human Parasites
* Endoparasites
* Protozoan organisms
* Helminths (worms)
* Tapeworms
* Flukes
* Roundworms
* Guinea worm
* Hookworm
* Echinococcosis tapeworm
* Fasciolosis liver fluke
* Enterobiasis pinworm
* Lung fluke
* Whipworms
* Screwworm
* Bedbug
* Toxoplasma gondii
* Rhinosporidium seeberi
* Naegleria fowleri
* Trichomonas vaginalis
* Entamoeba histolytica
* Coccidia
* Ectoparasites
* Deer ticks (Lyme Disease)
Harmful Bacteria
* Salmonella
* Campylobacter
* E. coli
* Listeria
Most Antibotic Resistant
* Clostridium perfringens
* Streptococcus pyogenes
* Neisseria gonorrhoeae
* Mycobacterium tuberculosis
* Acinetobacter baumannii
* Klebsiella pneumoniae
* Clostridium difficile
* Pseudomonas aeruginosa
* Burkholderia cepacia
* Staphylococcus aureus (mrsa)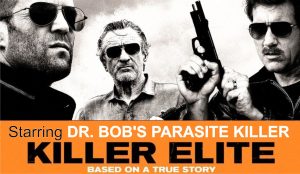 Dr. Bob's Blog is not intended as medical advice. The writings and statements on this website have not reviewed and/or approved by the FDA. Our products are not meant to diagnose, treat, cure or prevent any disease. Rather they are meant to demonstrate that aging can be slowed and even reversed and that Great Health achieved when the most fundamental nutritional needs of the human body are met. Always consult a medical doctor or other medical professional when you consider it necessary.
Dr. Bob's BLOG is covered under Communications Decency Act (47 U.S.C. §230),: "No provider or user of an interactive computer service shall be treated as the publisher or speaker of any information provided by another information content provider".  This BLOG contains Copyrighted and Trademarked materials owned by The Watershed Wellness Center.  Regarding the templates, pics, video clips, music or other media used in this BLOG. All material is copyrighted to their rightful owners.