By Dr. Bob McCauley
20 Commandments of 'The Medical Establishment'
Because we're twice as good as nature.
You shalt not suggest there is any cure for disease that might be found in nature or that derives from a natural source.
When you cannot find any possible source and/ or reason for a disease then it shall be labeled 'genetically inherited' using the term 'family history'.
Cures can only be found in pharmaceutical drugs, chemotherapy, radiation treatments, and other approved medical treatments and therapies developed by medical researchers.
You shall align yourself with the pharmaceutical industry.
You shall align yourself with the Food and Drug Administration.
Insurance companies pay our astronomically high bills since the average person could never afford our services.  Therefore, you shall align yourself with the health insurance industry.
You shall never speak ill of any effort made by the medical industry to cure disease even if it is a complete failure and actually causes harm.
Vaccinations are the holy grail of infectious diseases. You must demand that they are mandatory and insist they rid the planet of infectious disease.  Anti-Vaxxers will be denied all medical treatment including emergency/trauma services.
All chronic diseases will have fundraising lobbies behind them and all monies raised from these efforts shall be dedicated to the research of finding a cure for these diseases[i].
Medical students shall receive little or no training in nutrition.
Medical cost must remain astronomically high and must be raised annually regardless of whether it is justified or not.
Medical doctors shall not be subjected to questioning on their treatments and methods from non-medical personnel, including their own patients.
Medical doctors shall remain arrogant, aloof and inaccessible in order to give them the patina of absolute authority.
Medical Doctors shall suggest to their patients that they should improve their diet and exercise and give no specificity as to what that actually means.  Remember our motto: De manent incerta et sanitas exitibus  (Remain vague regarding issues of health).
If a patient asks their medical doctor about a natural supplement or trying a healthier diet to stop the disease they have been diagnosed with, said doctor should reply that they are to change nothing in their diet and absolutely take no natural supplements that may interfere with the medication they have been prescribed.
Pharmaceutical drugs do not interfere with the function of natural substances.  Natural substances interfere with function of pharmaceutical drugs.
When a patient is not cured, their symptoms are not abated or they die, the fault is with the patient and not the prescribed treatment.
If a patient is found to have cancer, the only possible course of treatment is chemotherapy, designated drugs or radiation. If said patient questions this treatment(s) or the philosophy behind using them, then said patient must immediately be told that they 'need to get their head right regarding these treatments' or they will not be treated at all if this kind of an attitude persists.
If a commonly performed surgery such as back surgery has an extremely low success rate, continue to perform that type of surgery as though the success rate is at an acceptable level.
 Primum non nocere.  First do no harm.  [This commandment is currently under review and is subject to change and/or redaction.]
[i] Except for administrative cost which may use most of the monies raised.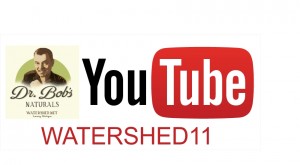 Dr. Bob's Blog is not intended as medical advice. The writings and statements on this website have not reviewed and/or approved by the FDA. Our products are not meant to diagnose, treat, cure or prevent any disease. Rather they are meant to demonstrate that aging can be slowed and even reversed and that Great Health achieved when the most fundamental nutritional needs of the human body are met. Always consult a medical doctor or other medical professional when you consider it necessary.
Dr. Bob's BLOG is covered under Communications Decency Act (47 U.S.C. §230),: "No provider or user of an interactive computer service shall be treated as the publisher or speaker of any information provided by another information content provider".  This BLOG contains Copyrighted and Trademarked materials owned by The Watershed Wellness Center.  Regarding the templates, pics, video clips, music or other media used in this BLOG. All material is copyrighted to their rightful owners.