Dr. Bob McCauley  
Kluyveromyces fragilis is a purified ribonucleic acid (RNA) species of yeast. RNA is a key
to longevity. RNA, the blueprints to our cells, cannot function properly without certain minerals. Without RNA, cell division becomes restricted and diminished cell copies are the result. RNA builds the immune system by enhancing an immune response.
It stimulates cellular repair and cellular growth factor, which is any nutrient capable of encouraging cellular growth. RNA speeds recovery of cell tissue after surgery and injuries. RNA is a precursor to nucleotide and stem cell production. It is responsible for the production of ATP, which provides the body with energy that drives countless cellular processes, muscle contraction, nerve impulses and chemical synthesis.
Products mentioned in this BLOG:
https://shop.watershed.net/index.php/rna-capsules.html
https://shop.watershed.net/index.php/herbal-extracts/brain-health/mucuna/mood-enhancer-mucuna-2-oz.html
https://shop.watershed.net/index.php/herbal-extracts/energy-testosterone/tongkat-ali/testosterone-and-vitality-capsules.html
https://shop.watershed.net/index.php/chlorella-growth-factor-capsules.html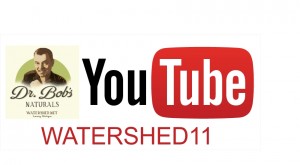 Dr. Bob's Blog is not intended as medical advice. The writings and statements on this website have not reviewed and/or approved by the FDA. Our products are not meant to diagnose, treat, cure, or prevent any disease. Rather they are meant to demonstrate that aging can be slowed and even reversed and that Great Health achieved when the most fundamental nutritional needs of the human body are met. Always consult a medical doctor or other medical professionals when you consider it necessary.
Dr. Bob's BLOG is covered under the Communications Decency Act (47 U.S.C. §230),: "No provider or user of an interactive computer service shall be treated as the publisher or speaker of any information provided by another information content provider".  This BLOG contains Copyrighted and Trademarked materials owned by The Watershed Wellness Center.  Regarding the templates, pics, video clips, music or other media used in this BLOG. All material is copyrighted to their rightful owners.