by Bob McCauley, ND
Dr. Bob's DETOX Formula is designed to get substances out of the body that don't belong there.  A toxin is a substance that does not perform any function in the body therefore it should
be removed. Unnecessary substances interfere with the complex operations of the body. They disrupt intercellular communication. Toxins create an unnatural environment within the body in which disease thrives. Therefore, it is imperative that we rid ourselves of unnecessary substances that are the source of so much disease.
* Shilajit (Himalayan Clay)
            Absorption removal.
* Brown Seaweed Extract (40x Kelp)
             Ionic and Absorption removal.
* Activated Carbon 
            Absorption Removal
* Chlorella Powder
             Heavy metal, synthetic toxin removal.
* Fulvic Acid
              Chemical reaction removal.
H.A.D.   If we want to be healthy we must Hydrate, Alkalize and Detoxify (HAD) our body, which creates an environment of health within the body.  Ionized Water is an antioxidant produced by electrolysis that Hydrates, Alkalizes and Detoxifies the body when consumed.  Dr. Bob's DETOX Formula helps remove toxins of various kinds.  Ionized Water is the healthiest substance we can put in the body because there is nothing better for us than water and there is no better water than ionized water.  The most common cause of disease is that people don't drink enough water, which leads to chronic cellular dehydration where the body's cells are unable to function to their capacity and serve the body as they are meant to.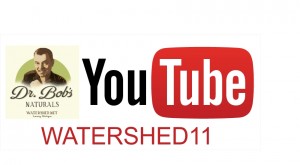 Dr. Bob's Blog is not intended as medical advice. The writings and statements on this website have not reviewed and/or approved by the FDA. Our products are not meant to diagnose, treat, cure or prevent any disease. Rather they are meant to demonstrate that aging can be slowed and even reversed and that Great Health achieved when the most fundamental nutritional needs of the human body are met. Always consult a medical doctor or other medical professional when you consider it necessary.
Dr. Bob's BLOG is covered under Communications Decency Act (47 U.S.C. §230),: "No provider or user of an interactive computer service shall be treated as the publisher or speaker of any information provided by another information content provider".  This BLOG contains Copyrighted and Trademarked materials owned by The Watershed Wellness Center.  Regarding the templates, pics, video clips, music or other media used in this BLOG. All material is copyrighted to their rightful owners.