By Dr. Bob McCauley
1. The manufacturer of our Water Ionizers, produces 100% of its components at its manufacturing plant in Taichung, Taiwan.
2. Yi Shan only produces Water Ionizers and has been doing so for over 20 years. They are one of the most well known and innovative Water Ionizer manufacturers in the industry.
3. Yi Shan Electric Company became the first Water Ionizer manufacturer in Taiwan in 1990 and excelled above other manufacturers. They have won many awards and certificates for their breakthrough technology throughout the years. They hold more than 27 patents in ionization technology.
4. All Water Ionizer repairs are performed at The Watershed Wellness Center in Lansing, Michigan. There is no need to ship the unit back to the manufacturer in Taiwan. This is not true for all water ionizer units sold in US market.
5. Our technical support and customer service teams are always available to answer any general or technical questions about our products. They provide prompt, friendly, excellent customer service.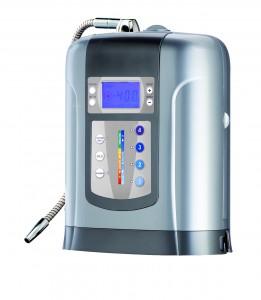 6. We provide the highest quality Water Ionizers at the most affordable price on the market because we buy direct and pass the savings along to you!
7. The President of our company, Bob McCauley, has written 5 books on Ionized Water. The Miraculous Properties of Ionized Water, The Definitive Guide to the World's Healthiest Substance (2006) is exclusively dedicated to the topic of Ionized Water. He also wrote The Consumers' Guide to Purchasing a Water Ionizer (2008). Bob knows as much about water ionization technology as anyone in the business. We have one of the most comprehensive websites on ionized water and have published more written material on the subject than anyone in the business.
8. We have been in the Ionized Water industry since 1996, which makes us one of the most experienced.
9. We do not sell any products that we do not use ourselves, including our water ionizers. Each of our products is carefully chosen to reflect our philosophy of what leads to Great Health in the most natural way possible. We pride ourselves on knowledge of our products and our customer service before and after the sale.
10. All Water Ionizers sold by our company come with a five year parts and labor warranty, the longest in the industry. Our water ionizers are built to last more than 20 years if they are properly cared for and cleaned at least once a year.
Dr. Bob's Blog is not intended as medical advice. The writings and statements on this website have not reviewed and/or approved by the FDA. Our products are not meant to diagnose, treat, cure or prevent any disease. Rather they are meant to demonstrate that aging can be slowed and even reversed and that Great Health achieved when the most fundamental nutritional needs of the human body are met. Always consult a medical doctor or other medical professional when you consider it necessary.
Dr. Bob's Blog is covered under (47 U.S.C. § 230): "No provider or user of an interactive computer service shall be treated as the publisher or speaker of any information provided by another information content provider".