By Dr. Bob McCauley, ND
Supports Cardio and Brain Health
Helps Balance Triglycerides
Unlocks PPARS Receptors which Regulates Cellular Development Metabolism Energy Production
Supports Eye Health
Helps Blood Stability
Helps Balance Cholesterol Levels
Helps Control Weight
Contains Essential Fatty Acids DHA, ALA, GLA
Omega Complete is the first Vegan algae product on the market that offers a full array of essential fatty acids including, ALA, LA, GLA, DHA, DPA.
CHLORELLA is a green algae that contains the highest amount of Protein, Chlorophyll
and Nucleic Acids of any food.   SPIRULINA is a blue-green algae that has a broad array of nutrients. SCHIZOCHYTRIUM is a marine microalgae that contains the fatty acid DHA.  The Omega 3 Essential Fatty Acids (EFAs) found in these algae support cardio and brain health.  EFAs help balance blood triglycerides and are the keys that unlock Peroxisome Proliferator-Activated Receptors (PPARs), which regulate cellular development, metabolism and differentiation. PPARs are also closely associated with energy production in the body.
EFAs unlock the body's mechanism in controlling lipid, glucose, cell division, and inflammation homeostasis  Omega-3 fatty acids are effective in reducing blood triglycerides in patients with high levels such as in the condition of hypertriglyceridemia and in lowering the risk factors for coronary heart diseases.
Brain and Eye Health
Helps Blood Stability
Helps Balance Cholesterol Levels
Helps Control Weight
Cardiovascular Health
Essential Fatty Acids in Omega Complete
Alpha Linoleic Acid (ALA):  21.3 mg
Linoleic Acid (LA): 34.8 mg
Oleic Acid: .72 mg
Gamma Linoleic Acid (GLA): 6.3 mg
DHA: 15 mg
DPA: 1.5 mg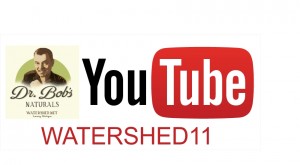 Dr. Bob's Blog is not intended as medical advice. The writings and statements on this website have not reviewed and/or approved by the FDA. Our products are not meant to diagnose, treat, cure or prevent any disease. Rather they are meant to demonstrate that aging can be slowed and even reversed and that Great Health achieved when the most fundamental nutritional needs of the human body are met. Always consult a medical doctor or other medical professional when you consider it necessary.
Dr. Bob's BLOG is covered under Communications Decency Act (47 U.S.C. §230),: "No provider or user of an interactive computer service shall be treated as the publisher or speaker of any information provided by another information content provider".  This BLOG contains Copyrighted and Trademarked materials owned by The Watershed Wellness Center.  Regarding the templates, pics, video clips, music or other media used in this BLOG. All material is copyrighted to their rightful owners.