by Bob McCauley, ND
Fulvic Acid:   Helps the body release toxic metals and keep excess iron from accumulating in the tissue. Fulvic Acid bonds  with positively charged metal ions in the body which are then excreted through the urine and feces.  Fulvic Acid is a diuretic that increases the body's ability to rid itself of excess heavy metals through the urine.
•  Fulvic Acid helps accelerate processes of protein and nucleic acid metabolism and stimulates energy providing reactions.
•  Fulvic Acid increases the core energy responsible for your sexual and spiritual power.
•  Fulvic Acid  balances blood sugar levels.
•  Fulvic Acid purifies blood, improves function of pancreas and strengthens digestion.
•  Fulvic Acid promotes the movement of minerals, especially calcium, phosphorous, and magnesium into muscle tissue and bone.
•  Fulvic Acid stimulates the immune system and improves recovery time after exercise.
•  Fulvic Acid counteracts debility and general fatigue.
Shilajit is plant matter that decomposed centuries ago and became preserved as a result of the pressure of the mountains.  Plants are the source of our food and humus is the source of plant food. Unlike other soil humus, Shilajit humus consists of 60 – 80% organic mass. Fulvic Acid is the active ingredient in Shilajit.  We infuse Chlorella with Shilajit in tablet form. 
The advantage of combining a concentrated herb such as Shilajit with a complete food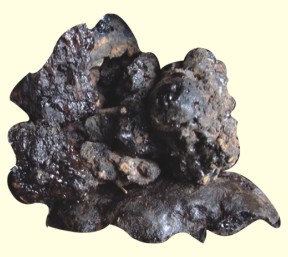 such as Chlorella is that the protein allows the body to absorb and utilize the herb much more safely and effectively.
Shilajit is a resin that is released through small cracks in the Himalayan Mountains due to heating effects of the summer sun. It is pale brown to blackish brown in color. This water soluble resin is soft in texture, slimy to touch, pure and heavy. Shilajit is harvested from the Himalayan Mountains of Nepal, Bhutan and Tibet.
In Sanskrit the literal meaning of Shilajit is Rock Like – the power to make our body like a rock enabling it to withstand the ravages of time.
Shilajit has the unmatched abilities to reverse the aging process.
Dr. Bob's Blog is not intended as medical advice. The writings and statements on this website have not reviewed and/or approved by the FDA. Our products are not meant to diagnose, treat, cure or prevent any disease. Rather they are meant to demonstrate that aging can be slowed and even reversed and that Great Health achieved when the most fundamental nutritional needs of the human body are met. Always consult a medical doctor or other medical professional when you consider it necessary.
Dr. Bob's Blog is covered under (47 U.S.C. § 230): "No provider or user of an interactive computer service shall be treated as the publisher or speaker of any information provided by another information content provider".