By Dr. Bob McCauley
Since all disease starts in the digestive tract then it is my belief that it is the best to attack disease it's birthplace, the digestive tract. If you have a disease such as cancer there is no doubt whatsoever that you are toxic and most likely your digestive tract is full of bad "critters" you don't want there.
What we need to do is kill all the bacteria, viruses, yeast, mold, fungus, and parasites but
every two kind so that the digestive tract is completely clear. This is best achieved with my parasite killer blend, 13 powders that are meant to kill everything inside your digestive tract, all the bacteria, viruses, yeast, mold, fungus and all parasites.
I also recommend bismuth, a mineral that also helps kill everything it's a living in the digestive tract, as well as silver which will help kill all the pathogens that reside in the blood. Once we've done all this killing of things that are parasitically living within us now it is time to replace the friendly bacteria, the probiotics, acidophilus and bifidus with Proferment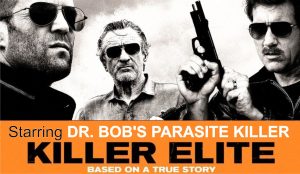 This is the beginning of my cancer protocol. I will be discussing this protocol over the coming months in great detail and my book which will be coming out later this year, the fall of 2020.
#cancer #cancersupport #cancerawareness #cancerprevention #cancertreatment #cancerresearch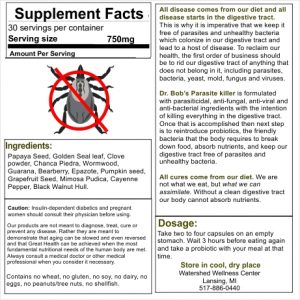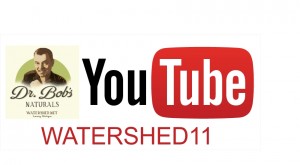 Dr. Bob's Blog is not intended as medical advice. The writings and statements on this website have not reviewed and/or approved by the FDA. Our products are not meant to diagnose, treat, cure or prevent any disease. Rather they are meant to demonstrate that aging can be slowed and even reversed and that Great Health achieved when the most fundamental nutritional needs of the human body are met. Always consult a medical doctor or other medical professional when you consider it necessary.
Dr. Bob's BLOG is covered under Communications Decency Act (47 U.S.C. §230),: "No provider or user of an interactive computer service shall be treated as the publisher or speaker of any information provided by another information content provider".  This BLOG contains Copyrighted and Trademarked materials owned by The Watershed Wellness Center.  Regarding the templates, pics, video clips, music or other media used in this BLOG. All material is copyrighted to their rightful owners.