By Dr. Bob McCauley
Chlorella Tablets combined with Vitamin C.  Chlorella is the most powerful food known. Chlorella has incredible immune-building
properties. Its unique fiber is great for digestion, as well as heavy metal and synthetic toxin removal. It has large amounts of nucleic acids (RNA/DNA), which, along with amino acids (protein), are the building blocks of our cells. It is the perfect plant-based protein source.
Vitamin C has numerous benefits:
* Lowers the risks of hypertension, coronary heart disease and stroke.
* Potent antioxidant.
* Responsible for gene expression regulation.
* Shortens the duration of the common cold.
* Essential for enzymatic cofactor reactions.
* Enhances iron absorption.
* Essential for the biosynthesis of collagen and neuropeptides.
* Reduces cholesterol.
* Helps fight anemia.
* Helps fight gout.
* Helps prevent dementia.
* Immune Builder.
* Helps with burn patients
* Helps control blood sepsis.
* Helps prevent eye cataracts.
* Helps prevent macular degeneration.
* Helps prevent viral and bacterial infections.
* Helps reduce infectious disease.
* Helps reduce shingles.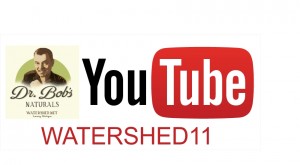 Dr. Bob's Blog is not intended as medical advice. The writings and statements on this website have not reviewed and/or approved by the FDA. Our products are not meant to diagnose, treat, cure, or prevent any disease. Rather they are meant to demonstrate that aging can be slowed and even reversed and that Great Health achieved when the most fundamental nutritional needs of the human body are met. Always consult a medical doctor or other medical professionals when you consider it necessary.
Dr. Bob's BLOG is covered under the Communications Decency Act (47 U.S.C. §230),: "No provider or user of an interactive computer service shall be treated as the publisher or speaker of any information provided by another information content provider".  This BLOG contains Copyrighted and Trademarked materials owned by The Watershed Wellness Center.  Regarding the templates, pics, video clips, music or other media used in this BLOG. All material is copyrighted to their rightful owners.