By Dr. Bob McCauley
Chlorella with Nattokinase Tablets.  Chlorella is a green algae and the most powerful food
known. Nattokinase is an enzyme extracted from natto that speeds up biochemical reactions in the body. Chlorella is a powerful immune builder that has been shown to inhibit IL-4 and IL-5 activity while promoting IFN-y and IL-2 and an immune response. Chlorella and Nattokinase work synergistically by relieving stress on the body allowing it to build the immune system.
Nattokinase
* Regulates fibrin, a protein involved in healthy blood clotting.
* Fibrinolytic, helping break down blood clots.
* Regulates and balances blood pressure.
* Reduces LDL (bad) cholesterol.
* Increases HDL (good) cholesterol.
* Reduces blood viscosity, improves blood flow and lowers blood pressure.
* Supports cardiovascular health.
* Nattokinase benefits the respiratory tract by increasing blood flow and removing fiber from lung tissue.
* Relieves hyperviscosity (thickness) of blood which can lead to high blood pressure
* Supports healthy blood flow, circulation and blood pressure.
* Helps control deep vein thrombosis and varicose veins.
* Helps prevent Hemorrhoids and polyps.
* Helps reduce nasal polyps.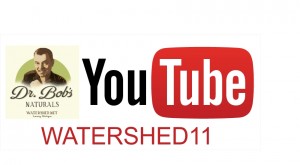 Dr. Bob's Blog is not intended as medical advice. The writings and statements on this website have not reviewed and/or approved by the FDA. Our products are not meant to diagnose, treat, cure, or prevent any disease. Rather they are meant to demonstrate that aging can be slowed and even reversed and that Great Health achieved when the most fundamental nutritional needs of the human body are met. Always consult a medical doctor or other medical professionals when you consider it necessary.
Dr. Bob's BLOG is covered under the Communications Decency Act (47 U.S.C. §230),: "No provider or user of an interactive computer service shall be treated as the publisher or speaker of any information provided by another information content provider".  This BLOG contains Copyrighted and Trademarked materials owned by The Watershed Wellness Center.  Regarding the templates, pics, video clips, music or other media used in this BLOG. All material is copyrighted to their rightful owners.