By Dr. Bob McCauley, ND
This guy is such an idiot. Unfortunately, people have believed his craps for decades. Never listen to an MD give you health advice. They're doctors, not health advisors.  Weil has insisted for years that people stay away from spirulina because it was so dangerous. Spirulina is a cyanobacteria and certain strains of cyanobacteria can be dangerous.
But this doesn't mean that all cyanobacteria contain BMAA for Microcystins.  If This Were a court of law, I would say that this is guilt by association.  spirulina is grown in a controlled environment that is carefully monitored during the production process and tested for BMAA for Microcystins.
To my mind, spirulina and other blue-green algae supplements are unsafe. For years, I have been warning against consuming them. My main concern is the neurotoxins that spirulina and related organisms may contain.  Andrew Weil, MD
Animal studies have shown that monkeys fed fruit to which BMAA was added developed brain changes – neurofibrillary tangles and amyloid deposits – nearly identical to those found in the brain tissue of Chamorros who died from the ALS-PDC. Notably, except for those who have chosen to live with the Chamorros, other inhabitants of Guam have not developed it. Aging is the major risk factor for Alzheimer's disease worldwide. The causes of ALS and Parkinson's disease are unknown, but it is possible that environmental toxicity is a factor, including, in some cases, BMAA exposure.  Andrew Weil, MD
I watched the (boring) documentary "Toxic Puzzle" recently which attempts to show the link between Amyotrophic lateral sclerosis (ALS) and β-Methylamino-L-alanine (BMAA), an amino acid found in cyanobacteria such as Aphanizomenon flos-aquae (AFA) which is found in Klamath Lake, Oregon and other places around the world. At the end of "Toxic Puzzle," they point the finger at Spirulina platensis as being potentially toxic, and then they actually lie about their findings. They don't bother to mention AFA in their documentary, which is known to have Microcystins, Saxitoxins, Cylindrospermopsin, and Anatoxins.
BMAA is a dangerous amino acid, which is why we test for it. Here are our test results. Parry_BMAA_Cyanotoxins_report I refute all these spurious claims against spirulina in my Rebuttal, which posted on Youtube. Harmful Algae Blooms (HAB) often involve cyanobacteria such as AFA. The most common species of toxic cyanobacteria in the Great Lakes are: Microcystis aeruginosa, Anabaena circinalis, Anabaena flos-aquae, Aphanizomenon flos-aquae, and Cylindrospermopsis raciborskii. AFA is sold under the names Klamath Lake Algae, and Klamath blue-green algae. Actually, it is a cyanobacteria as is Spirulina platensis, which I have sold for many years.
The documentary cites a study then misrepresents it. J AOAC Int. 2015 Nov-Dec;98(6):1559-65. doi: 10.5740/jaoacint.15-084. Determination of β-N-methylamino-L-alanine, N-(2-aminoethyl)glycine, and Brocatal_JAOACI_BMAA_Validation-page-0022,4-diaminobutyric acid in Food Products Containing Cyanobacteria by Ultra-Performance Liquid Chromatography and Tandem Mass Spectrometry: Single-Laboratory Validation. Glover WB1, Baker TC, Murch SJ, Brown PN.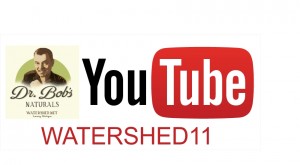 Dr. Bob's Blog is not intended as medical advice. The writings and statements on this website have not reviewed and/or approved by the FDA. Our products are not meant to diagnose, treat, cure, or prevent any disease. Rather they are meant to demonstrate that aging can be slowed and even reversed and that Great Health achieved when the most fundamental nutritional needs of the human body are met. Always consult a medical doctor or other medical professionals when you consider it necessary.
Dr. Bob's BLOG is covered under the Communications Decency Act (47 U.S.C. §230),: "No provider or user of an interactive computer service shall be treated as the publisher or speaker of any information provided by another information content provider".  This BLOG contains Copyrighted and Trademarked materials owned by The Watershed Wellness Center.  Regarding the templates, pics, video clips, music or other media used in this BLOG. All material is copyrighted to their rightful owners.