by Bob McCauley, ND
Chlorella is being consumed by more people all the time.  It has become recognized for what it is, the world's most nutritious food.  Recently, the source of the chlorella, where it is grown, has become a more important issue.  I have been to several chlorella and spirulina production plants throughout China and Taiwan.
While it is possible to find good quality Chlorella in China it is considerably more difficult than it is to find good quality Chlorella that is grown in Taiwan.  With its pervasive pollution and high amounts of heavy metals throughout the country finding both Spirulina and Chlorella in China that is not contaminated can be difficult, but you need to know your source well, having visited the company's plant and inspected their cleanliness and procedures firsthand.  If you have been in the algae business, selling spirulina and chlorella for more than 5 years, you need to  have visited the production plant of what you are selling.  If you don't, you will have no idea what you are selling and whether it is any good or not.  I have personally visited 6 spirulina and chlorella factories, 2 in China, 4 in Taiwan.  I consume the chlorella from Taiwan, and not from China because after seeing the conditions of each plant I knew what I would be willing to consume myself.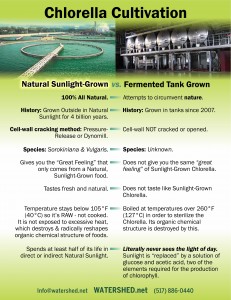 As of 2012, the only Chlorella produced in Korea is fermented inside the tank and it never sees the light of day, which is a product I would not consume.  At that time of this writing, 2012, Chlorella is not grown in the United States nor has it ever been to my knowledge.  However, the US has many ideal locations to grow chlorella such as Texas, which is not too hot, yet has nice whether year around.
Japanese companies have been growing Chlorella perhaps longer than any other country.  Knowledge about how to grow Chlorella is taught in the universities in Japan and it is where many of the people who grow in Taiwan learn to produce consumable Chlorella.  Many of the chlorella seed cultures that are used by various manufacturers come from Japan.  Although it may seem quite easy to grow algae that has consistent quality from batch to batch, and year to year.  But in fact, it is extremely difficult to do.  Growing algae is a complicated science
There are several companies that grow Chlorella in Taiwan as of 2012.  Chlorella grown in
Taiwan is by far the world's best quality.  Taiwan is a pristine country, mostly free of pollution in the countryside were Chlorella is cultivated.  Taiwan Chlorella producers offer the highest quality Chlorella available on the market, both certified and non-certified organic.  To open the Chlorella cell, producers use both pressure-release and Dyno®-Mill methods. We currently sell chlorella that has been opened with pressure-release, and we will be selling chlorella opened using the Dyno®-Mill method starting in June.  This unique process of small glass beads that crack the cell wall of the chlorella as it tumbles inside a drum crushes the chlorella cell for better absorption by the body
Currently the Watershed WellnessCenter sells Taiwan Chlorella only, including Certified Organic and non-certified organic chlorella and spirulina.  We are the only company to sell chlorella and spirulina combined with herbal extracts in tablet form.
Dr. Bob's Blog is not intended as medical advice. The writings and statements on this website have not reviewed and/or approved by the FDA. Our products are not meant to diagnose, treat, cure or prevent any disease. Rather they are meant to demonstrate that aging can be slowed and even reversed and that Great Health achieved when the most fundamental nutritional needs of the human body are met. Always consult a medical doctor or other medical professional when you consider it necessary.
Dr. Bob's Blog is covered under (47 U.S.C. § 230): "No provider or user of an interactive computer service shall be treated as the publisher or speaker of any information provided by another information content provider".