By Dr. Bob McCauley
The Next Step in my cancer protocol it's to move from a meat-based, animal-based diet to a plant-based diet. The question I get asked the most often is what do you do for your protein if you don't have meat, fish, eggs and Dairy. Spirulina and chlorella are the two most powerful Foods in the world and are 60% protein. Taking 3 to 4 grams with every meal will give you all the protein you need for that meal. If you want to eat meat fish eggs or dairy it is strictly for the taste.
You will be moving 100% in the opposite direction from cancer when you start taking spirulina and Chlorella. Dairy products contain IGF, insulin-like growth factor, that encourages cancer to grow. This is why you should never consume dairy products if you have cancer. If you have cancer has your oncologist offered you that advice? They should, but sadly they do not because they do not understand that nutrition is critical to our health and that our diet is the ultimate source of all our disease. Moving to a plant-based diet is an absolute necessity if you have cancer.
Email me and request my cancer protocol outline and I will be happy to send it to you: Info@watershed.net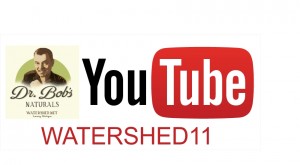 Dr. Bob's Blog is not intended as medical advice. The writings and statements on this website have not reviewed and/or approved by the FDA. Our products are not meant to diagnose, treat, cure, or prevent any disease. Rather they are meant to demonstrate that aging can be slowed and even reversed and that Great Health achieved when the most fundamental nutritional needs of the human body are met. Always consult a medical doctor or other medical professionals when you consider it necessary.
Dr. Bob's BLOG is covered under the Communications Decency Act (47 U.S.C. §230),: "No provider or user of an interactive computer service shall be treated as the publisher or speaker of any information provided by another information content provider".  This BLOG contains Copyrighted and Trademarked materials owned by The Watershed Wellness Center.  Regarding the templates, pics, video clips, music or other media used in this BLOG. All material is copyrighted to their rightful owners.