By Dr. Bob McCauley
Part one of my cancer protocol shows ways to disinfect the blood. The Next Step in my cancer protocol is disinfection of the digestive tract. This is best accomplished with liquid angstrom silver  and liquid angstrom Bismuth and Dr. Bob's parasite killer blend, which is a combination of 13 powders that kill bacteria, viruses, yeast, mold, fungus and parasites.
This is part of Dr. Bob's Tabla rasa, clearing the digestive tract of all infectious agents. Once we have accomplished this now we're ready to put in the friendly bacteria, acidophilus and Bifidus. My best probiotic is ProForment, which uses and acidophilus strain known as DE111. These spores current temperature stable at 200F.
A parasite is an organism that lives in or on another organism while benefiting by deriving its nutrients at the host's expense. When we think of parasites, we conjure tapeworms and flatworms that live primarily within our digestive tract.  However, bacteria, viruses, yeast, mold, fungus are also parasites that live within us and feed on our nutrients while creating an ideal environment for disease to thrive.
Their waste by-products are excreted into our bodies, polluting us yet further.  In fact, toxins excreted by these infectious agents are often more dangerous than the parasitical organism that excretes it, E-coli being a prime example of this. Add to it the incredible amount of inert chemical toxins we are exposed to on a daily basis and the perfect environment for disease has been created within you.
As part of my cancer protocol, I developed an antimicrobial, antifungal and anti-parasitical formula meant to destroy virtually all life in your digestive tract.
Papaya seed powder (anti-parasitic)
Golden seal leaf powder (antibacterial/antifungal)
Clove powder (antibacterial/antifungal)
Chanca piedra powder (kidney stone/gallstone cleanse. Antibacterial/antifungal)
Wormwood powder (antibacterial/antifungal)
Guarana powder (antibacterial)
Bearberry powder – uva-ursi (antibacterial/antifungal)
Chenopodium ambroiides – Epazote  (anti-parasitic/de-wormer)
Pumpkin seed powder (anti-parasite/antifungal)
Grapefruit seed powder (anti-parasite/antifungal)
Mimosa pudica powder (anti-parasite/antiviral/antifungal)
Cayenne pepper powder (antibacterial/antifungal)
Black walnut hull powder (antibacterial/antifungal)
Take Dr. Bob's Parasite Killer, then drink 3 liters of water over the next 2 – 4 hours before taking a probiotic and eating again.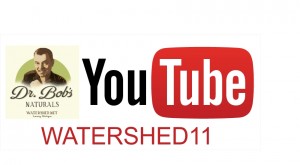 Dr. Bob's Blog is not intended as medical advice. The writings and statements on this website have not reviewed and/or approved by the FDA. Our products are not meant to diagnose, treat, cure, or prevent any disease. Rather they are meant to demonstrate that aging can be slowed and even reversed and that Great Health achieved when the most fundamental nutritional needs of the human body are met. Always consult a medical doctor or other medical professionals when you consider it necessary.
Dr. Bob's BLOG is covered under the Communications Decency Act (47 U.S.C. §230),: "No provider or user of an interactive computer service shall be treated as the publisher or speaker of any information provided by another information content provider".  This BLOG contains Copyrighted and Trademarked materials owned by The Watershed Wellness Center.  Regarding the templates, pics, video clips, music or other media used in this BLOG. All material is copyrighted to their rightful owners.