By Dr. Bob McCauley
The most difficult thing you must do if you wanted to defeat disease, including the worst disease, cancer is to change your diet. Changing your diet is definitely the most difficult thing you will do in your life. It was for me when I did it. It's very easy to start eating raw food because they're delicious. People eat fruit and salads all the time, but the problem is they also eat cooked Foods. They live on primarily a cooked food diet, sometimes a processed food, junk food diet. I used to live this way myself. My bones are made out of Coca-Cola in Oreo cookies. I have said this many times.
When I was 20 I began to eat more healthily. When I was 25 I became a vegetarian and by 45 hours a vegan. But nothing was more difficult and to stop eating cooked food and start eating raw fruits and vegetables exclusively. This is the only way to obtain great health, true health, the kind of Health most people just dream about.
Even if you were to transition to an 80% raw food diet you would see tremendous benefits. I usually fast in the morning and don't eat anything till around noon. Then I have some fruit and spirulina and Chlorella. In the evening I have a salad with spirulina and chlorella. I have been living this way over 20 years and I have incredible health. Transitioning to a mostly raw food diet is something that is imperative if you want to clear your body of all disease, including cancer, the Emperor of all disease.
Email me and request my cancer protocol outline and I will be happy to send it to you: Info@watershed.net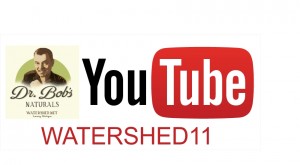 Dr. Bob's Blog is not intended as medical advice. The writings and statements on this website have not reviewed and/or approved by the FDA. Our products are not meant to diagnose, treat, cure, or prevent any disease. Rather they are meant to demonstrate that aging can be slowed and even reversed and that Great Health achieved when the most fundamental nutritional needs of the human body are met. Always consult a medical doctor or other medical professionals when you consider it necessary.
Dr. Bob's BLOG is covered under the Communications Decency Act (47 U.S.C. §230),: "No provider or user of an interactive computer service shall be treated as the publisher or speaker of any information provided by another information content provider".  This BLOG contains Copyrighted and Trademarked materials owned by The Watershed Wellness Center.  Regarding the templates, pics, video clips, music or other media used in this BLOG. All material is copyrighted to their rightful owners.