By Dr. Bob McCauley
We are told throughout our lives that disease comes from our family history, our genes and that they are inherited through our family line. This is complete nonsense. Although it appears to be this way disease does not run in our family line, all disease comes from our diet. This is why you can control disease and live disease-free if you choose. Since all disease comes from our diet, and the foods we put into our body on a regular basis then digestive health is the most important part of Health itself.
There's a saying, you are what you eat, when the truth is you are what you can assimilate. If your digestive tract is not clear or the food cannot be absorbed through the small intestines through the microvilli because they are caked with material then you're not going to be able to absorb nutrients. It is imperative that we had fermented foods, probiotics, the friendly bacteria and digestive enzymes to our diet on a regular basis if we expect to be healthy.  You can take them together.  If you consume excessive fat you need to take more lipase.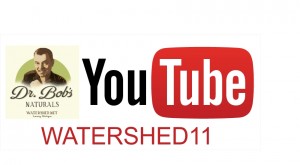 Dr. Bob's Blog is not intended as medical advice. The writings and statements on this website have not reviewed and/or approved by the FDA. Our products are not meant to diagnose, treat, cure, or prevent any disease. Rather they are meant to demonstrate that aging can be slowed and even reversed and that Great Health achieved when the most fundamental nutritional needs of the human body are met. Always consult a medical doctor or other medical professionals when you consider it necessary.
Dr. Bob's BLOG is covered under the Communications Decency Act (47 U.S.C. §230),: "No provider or user of an interactive computer service shall be treated as the publisher or speaker of any information provided by another information content provider".  This BLOG contains Copyrighted and Trademarked materials owned by The Watershed Wellness Center.  Regarding the templates, pics, video clips, music or other media used in this BLOG. All material is copyrighted to their rightful owners.