by Bob McCauley, ND
The game changers is a documentary by James Cameron featuring Arnold Schwarzenegger in which they portray vegan, top-notch athletes their various sports who have become plant-based vegans and removed eggs, meat, fish, and dairy from their diet.
And after they did this they saw tremendous changes in their performances. Several of them were now competing well past the age of anyone who had competed at that level in that particular sport.
Others are breaking records, weightlifting, running, sports records of all kinds are toppled psych people who refuse 2 eat animal protein to be healthy. The only reason we eat meat is 100% psychological. There is no physical reason why we should eat meat and there's no physiological reason why it would be healthy for us.
Directed by Oscar®-winning documentary filmmaker Louie Psihoyos and executive produced by James Cameron, Arnold Schwarzenegger, Jackie Chan, Lewis Hamilton, Novak Djokovic, and Chris Paul, The Game Changers tells the story of James Wilks — elite Special Forces trainer and The Ultimate Fighter winner — as he travels the world on a quest to uncover the optimal diet for human performance.

Showcasing elite athletes, special ops soldiers, visionary scientists, cultural icons, and everyday heroes, what James discovers permanently changes his understanding of food and his definition of true strength.    https://gamechangersmovie.com
#gamechanger #gamechangers #veganlife #meatfree #meatless #vegetarian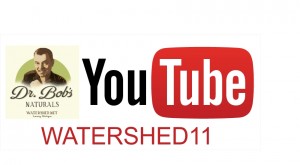 Dr. Bob's Blog is not intended as medical advice. The writings and statements on this website have not reviewed and/or approved by the FDA. Our products are not meant to diagnose, treat, cure or prevent any disease. Rather they are meant to demonstrate that aging can be slowed and even reversed and that Great Health achieved when the most fundamental nutritional needs of the human body are met. Always consult a medical doctor or other medical professional when you consider it necessary.
Dr. Bob's BLOG is covered under Communications Decency Act (47 U.S.C. §230),: "No provider or user of an interactive computer service shall be treated as the publisher or speaker of any information provided by another information content provider".  This BLOG contains Copyrighted and Trademarked materials owned by The Watershed Wellness Center.  Regarding the templates, pics, video clips, music or other media used in this BLOG. All material is copyrighted to their rightful owners.